Ab Nox, Ad Lux
book release at Canopy, Malmö (S). Paper publication by Aber Press. March 20th 2021.

(request issue)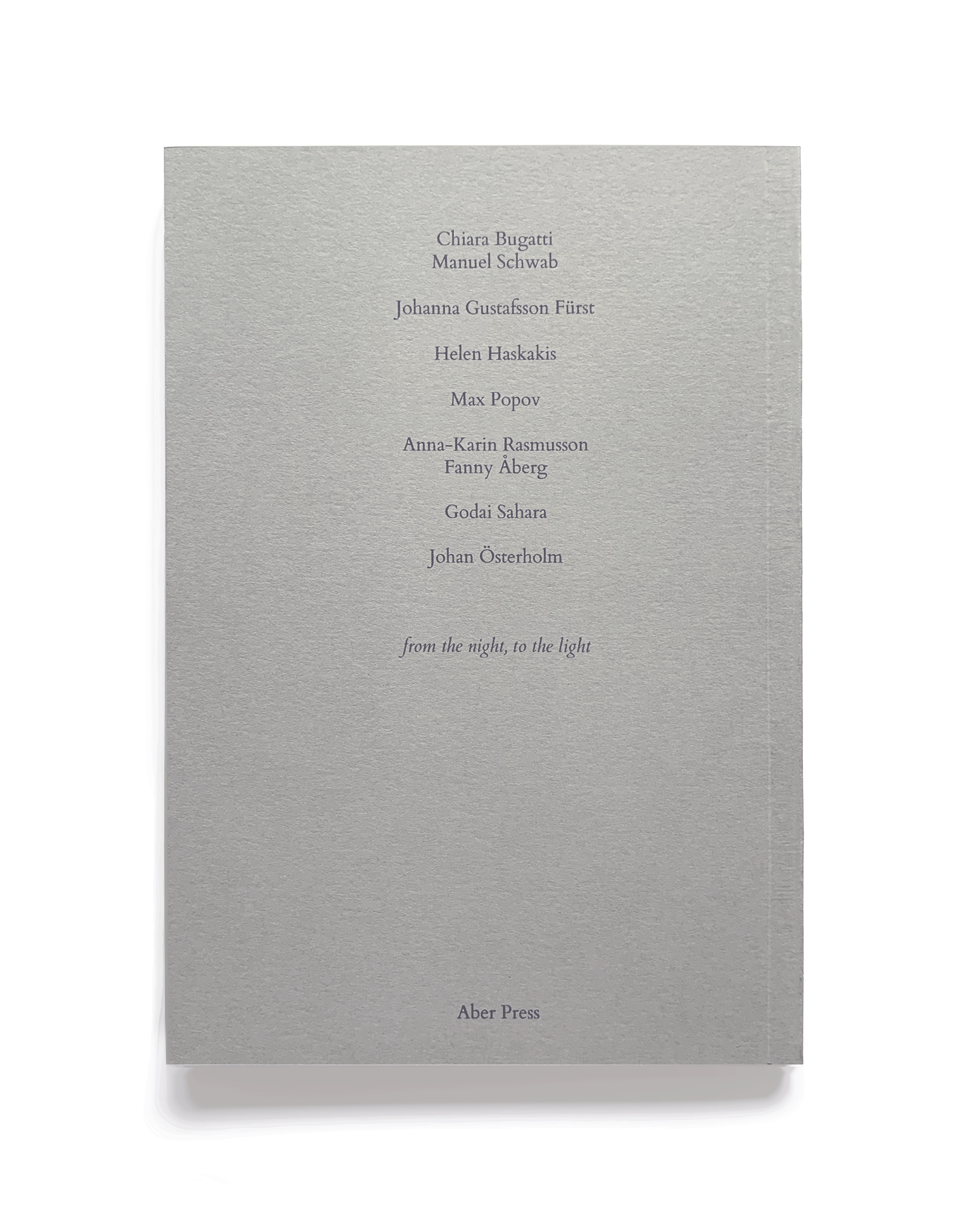 (studio visit) A process of rehearsing, the cube and random moments of destruction, studio visit with Sarie Nijboer on Akademie Schloss Solitude Blog. Feb. 2021.
The Sensory Living: A substance of the World
on Beyond Walls _Über Grenzen hinhaus, paper publication by Solitude Press. Designed by Johanna Ehde and Elisabeth Rafstedt of Rietlanden Women's Office. Dec. 2020.
"To see a wave one must perceive all its simultaneous components and understand the correlation between them.
As my body entered the room, I could hear the air beating. Drops were glazing from my skin; dripping, falling, trickling. My gaze was drawn to the architecture of the room and I could feel a sensation surrounding my ears. It was a hissing sound approaching me, but as soon as it arrived it faded again. Where did she disappear to? This refreshing feeling she gave to my body created a sense of peace and well-being and all I could think about was wanting it back.
I could sense the air breathing, because I was breathing it too. Water evaporated into the air, and I needed it to protect my skin. The more time I spent in this room, the more I wanted to grow and evolve. My existence did not go unnoticed either, my skin pulled water and air, and the more I absorbed, the more I transformed. Nothing ever stays the same.
Have you ever seen such a simple mechanism that constantly arises and vanishes? Almost like a wave, rhyming with varying frequencies. While standing in this room, I could feel my surface rhyming with all that surrounded me, and all I could do was simply evolve and be." S.N.
(txt.pdf)
Sculptural Failure, on materials and vulnerability, one-week workshop for second year Bachelor students at Umeå Art Academy (S) Oct. 12th-16th 2020.
---
(link) Brute Force Performance and Artist Talk in collaboration with choreographer Alessandro Giaquinto and dancer Matteo Miccini from Das Stuttgart Ballett - in occasion of the symposium Paradoxes of Progress curated by Akademie Schloss Solitude and University of Tübingen. March 7th 2020.